Randy Rundle started Fifth Avenue Antique Auto Parts in 1987 to market his new invention, a six-volt alternator.
Randy rebuilt several 1948 - 1954 Chevrolet pickups during his High School years, and became well known as the local source for Chevrolet truck parts and accessories. It was during these early years that Randy also gained first-hand knowledge of early 6-volt electrical systems. He became well aware of the trademark hard starting, yellowish dim headlights, and the dead batteries common to most all 6-volt electrical systems.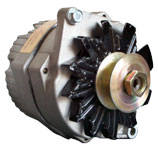 With the 6-volt, electrical systems less than reliable, Randy became determined to figure out a solution. After doing some extensive research, Randy decided to improve the reliability of the 6-volt electrical systems, by applying modern technology in reverse. The result was his invention, 6-volt alternator.
The new 6-volt alternator allowed all of the original 6-volt electrical system to remain in place, while providing a 60% greater output. In addition, the new 6-volt alternator would be able to recharge the battery at idle and low engine rpms, just like a modern day 12-volt charging system. That would put an end to the trademark hard starting dead batteries and dim headlights associated with the 6-volt electrical systems.